The wind was blowing the snow completely horizontal as my friend Les and I put on our hip boots. That April afternoon we were in the midst of a full fledged blizzard, getting ready to cross the river to set up near a turkey roost. I carried a Double Bull blind and my seat, Les had his gun and seat. As we started our mile long trek Les said "I bet we are the only dedicated turkey hunters on the river right now." I said "Les…I don't think dedicated is the best word to describe us."
The roost was in an old river channel and we found the slight drop in elevation protected us from the wind. In the blind it was really quite pleasant as we watched big flakes of snow float softly to the ground. We called periodically, and a little before sunset I looked out my side of the blind. Just 25 feet away there was some movement at the top of some weeds that I couldn't figure out. Finally I realized I was looking at the head and neck of a hen turkey. I didn't recognize what I saw at first, because she was covered with a half inch of snow from the base of her neck to her tail. Her body just blended in with the white background. The hen fed around the blind for a while and eventually shook off all the snow that had accumulated on her. Les commented how cold, wet, and miserable she looked. The hen soon moved off and flew up to roost about 70 yards away. We managed to slip out of the area without flushing her. Les and I never saw or heard a gobbler that evening, but I will never forget that hunt. Hunting turkeys in the snow can produce some special memories.
I do most of my turkey hunting out west and spring snowstorms are not uncommon during the turkey season. I have experienced spring snows as late as the third week in May. Our spring snows usually come with a good dose of wind, and many fall into the blizzard category. It seems I hunt turkeys in the snow at least once every other spring, and two or three times in some of the more volatile springs. I have put together some observations on how a spring snow affects turkeys and hunting them. However, my experience with hunting turkeys in snow is limited to the Rio Grande and Merriam's turkey. I have yet to hunt Easterns in the snow. If you are hunting out west for a Rio or Merriam's and find yourself hunting in snow, then perhaps you may find some of the following information useful.
BEHAVIOR
Both Rios and Merriam's tend to gather in pretty large flocks in the winter. In cold late springs these flocks don't break up until just before the spring hunting season opens. An early spring snowstorm can delay flock break up.  Once breakup occurs, a snowstorm may cause the birds to regroup into flocks of 10-25 birds. For Rios this means the flocks may be fewer and farther in between, but more birds in each flock. In the case of Merriam's in the mountains, the birds may migrate vertically downhill in a spring snow after flocking back together. If you are hunting public lands, which are usually at higher elevations, the birds may just move to lower elevations which are usually private lands. Since these spring snows are not uncommon, some turkeys do take them in stride and stay up high.  When hunting higher elevation public lands during a storm, I have managed to find a few birds still weathering the storm.
Turkeys may just choose to hole up in sheltered areas during the intense part of a storm.  The birds are out there 24/7 and will have to feed and move about sooner or later. When a storm finally does break the toms are pretty anxious to get back to the task of breeding. If the snow quits and the wind dies down some gobblers may start sounding off even in the middle of the day. And if the temps are rising with some snow melting, things will be getting back to normal relatively quickly. However, if the snow is very deep (close to a foot or more) it may take several days for the turkeys to resume their normal routine.
Prolonged cold and several storms during the spring may delay nesting in hens for a week or more. This could affect how the breeding flock structure progresses later in the season. The hens may not be leaving the gobblers as readily to lay their eggs.
ADVANTAGES OF SNOW
There are really not many advantages of hunting in snow. The competition of other hunters certainly is reduced. About the only other hunters out there are ones that pre-planned a hunt for that particular time and ended up hunting in the snow by chance, or the few turkey hunting nuts, like me, that think its fun to chase gobblers in the snow. Local hunters normally just wait for the weather to improve.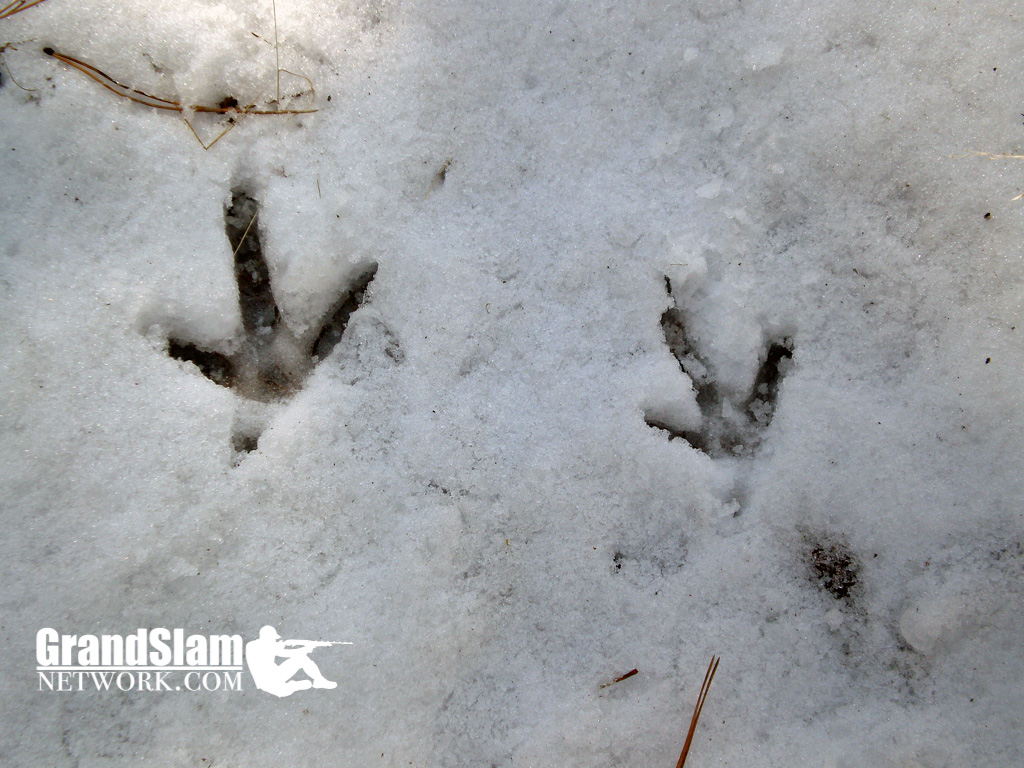 Here   Tracks will certainly be more easily revealed wherever turkeys roam. In snow it is easy to tell fresh tracks from those even a few hours old. You may be able to track a flock and anticipate the direction they are going and have an opportunity to head them off. Tracks that end suddenly or start from nowhere indicate the location where turkeys have flown up or down from a tree. Find this subtle clue and you have probably just found a roost site.
Turkeys are much easier to see in the snow. Out west where the country is open, it is very likely that you could spot a flock from a good distance just by doing some glassing with binoculars. Spotting turkeys is also simpler because the size of the area to search may be reduced if some portions of it are clear of snow. Wind can blow areas clear or the sun will melt the south facing slopes sooner, so check those spots first. Even though turkeys could easily scratch through shallow snow, they seem to prefer clear ground or where the snow is almost gone.
DISADVANTAGES OF SNOW
The biggest disadvantage of a spring snowstorm may be the inability to get to the hunting area. Backcountry roads can be difficult to navigate at best. Many are just not plowed. Even when the storm is over and the snow is melting the roads can be very slippery. However if you happen to be camping in your hunting area when the storm hits, those same difficult roads could keep others from getting in, this turns a disadvantage into an advantage. Just make sure you are always prepared for the unexpected and have plenty of food, water and warmth.
Crunchy snow can be another major problem. Spring snows are almost always a wet snow. The daytime temperature may be close to, or above the freezing mark, but nighttime temps usually go below freezing. This means that slushy wet snow becomes hard and results in a very noisy, crunchy snow by morning. Consequently, it can be extremely difficult if not impossible to move in on a roosted gobbler. Not only can turkeys hear you moving from a great distance, they can see shadows against the snow in very low light. You lose the cover of darkness.
Although, you can see turkeys better in the snow, they can also see you better. For a turkey, their eyes are its greatest asset. It is especially challenging for a hunter to try to remain hidden on a carpet of white. A white sheet over your legs and partially up your waist can help you blend in while sitting up against a dark tree. The sheet can easily be carried in the back pouch of a turkey vest when moving.
As I mentioned previously, turkeys may flock up a bit and that means more areas without turkeys. This can mean a lot of leg work before you make any contact with birds. For Merriam's this is especially the case because their density is less concentrated.  The inclement weather may also tone down the frequency of gobbling.
The cold and wet can make for some uncomfortable hunting. Waterproof outerwear is a must. Since I travel for most of my turkey hunting, I always pack extra clothes and even an old turkey vest as a spare. This allows me to hunt in very wet weather and not have to worry too much if something ends up totally soaked. I can go back out hunting with a spare item while the soaked one is drying. I like to wear Lacrosse rubber knee high boots in wet weather. Even in mountains the ankle fit boots will allow me to maneuver around without any problems and still keep my feet dry. I have an insulated pair I use if it is very cold. With the Lacrosse felt insoles, the boots are very comfortable and I can walk all day in them. A good seat or pad that keeps you dry can mean the difference between a pleasant hunt and a miserable one. Calls and other gear should also be protected or waterproof.
During snowfall, gun sights may become clogged or covered with snow. Even after it has stopped snowing this may occur as you move about and inadvertently brush snow off branches. This becomes a greater concern if you hunt with a scope or dot-type sight on your gun. I always check my sight frequently to be sure it is clear. A scope or dot sight can also fog up in cold wet weather.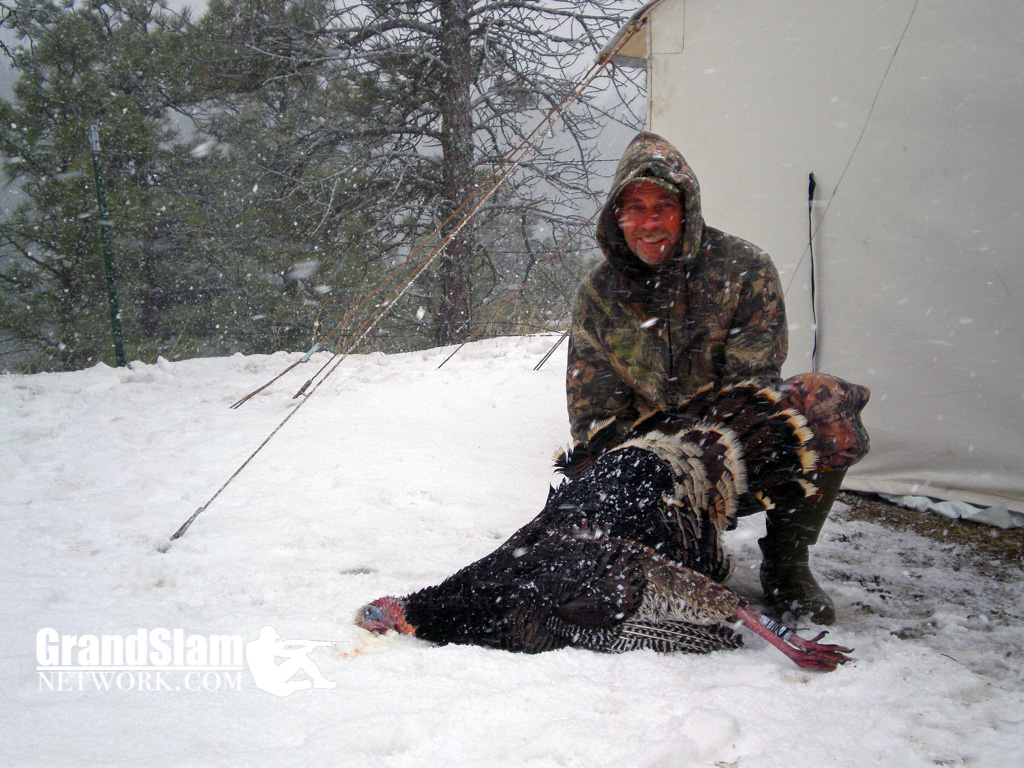 Here If you find yourself in turkey country that is carpeted in white, get after them if you can. There are some added challenges, but some special memories can be made…and you might even end up with a "snowbird."
Gary Meinke
Grand Slam Network.com