One of my favorite calls– because it kills turkeys – is my crystal pot call. I bought it a couple of seasons ago. The call will flat run! Often times, when practicing, I'd tune in toYouTube and listen to Sadler McGraw run a friction turkey call. That's why I'm PUMPED to have an opportunity to chat with him on the NETWORK! Sadler has won or placed in over 100 calling competitions and is also on the Pro-Staff of companies we all know: Southland Custom Game Calls, Ol' Tom, MossyOak, Indian Creek Shooting Systems, Hevi-Shot and Dave Smith Decoys.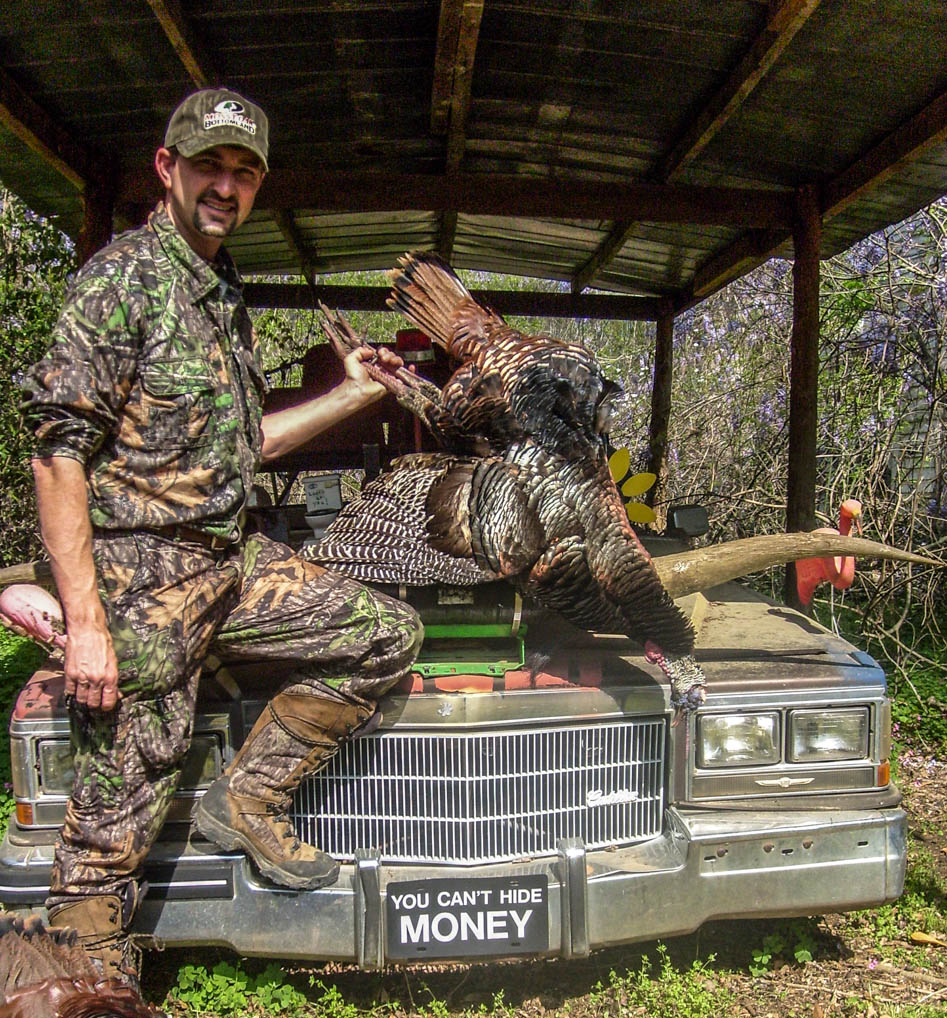 Some of Sadler's accomplishments include:
2011 NWTF Grand National Senior Division 4th Runner Up
2011 NWTF Grand National Friction 3rd Runner Up
2010 NWTF Grand National Senior Division 2nd Runner Up
2010 NWTF Grand National Friction 1st Runner Up
2009 NWTF Grand National Friction Turkey Calling Champion
2009 Grand America Friction Turkey Calling Champion 2009
Yellville National Friction Turkey Calling Champion
2009 World Owl Hooting Champion
2009World Friction Turkey Calling Championship 1st Runner Up
2009 NWTF Grand National Senior Division 2nd Runner Up
2008 World Friction Turkey Calling Champion
2008 U.S. Open 1st Runner Up 2008 Yellville National Champion of Champions
2007 U.S. Open Friction Turkey Calling Champion
2007 World Turkey Calling Championship 1st Runner Up
2007 Yellville National Champion of Champions
2006 Yellville National Turkey Calling Champion
2006 NWTF Grand National Senior Division 1st Runner Up
21 Alabama State Turkey Calling Titles
Let's get to it!
GRANT: Sadler, tell us about how you got started turkey hunting.
SADLER
I remember a pair of huge spurs hanging up in my mom and dad'scountry store while growing up, and all I wanted to do was kill a turkey that good or better. My dad took me hunting for the first time when I was about 9 years old on our family property. I can remember that morning like it was yesterday – it seemed like there was a gobbling turkey in every tree. The property was later clearcut and replanted, but today the place has 20 year old pines and turkeys still roost in the exact spot that we stood 30 springs ago on my first hunt.
GRANT: At that point in time what type of calls were you running?
SADLER:
The first mouth call that I ever owned was a Ben Lee Black Widow that I bought at age 10 from Ratcliffs Hardware. Before the day was out, I could make sounds that resembled a hen.
When I was 13, I had taken a gobbler one Saturday morning by myself, and was walking down a county road to our house. A heavyset gentleman pulled up in his truck and was congratulating me on my kill. Ihad no clue who he was, and if he did tell me his name it didn't register. We talked for a minute then he and his friend went on their way to another spot they had to hunt. Several months later I was thumbing through a hunting magazine looking for an article on turkey hunting. That's when I came across the article and began to read intently, as I flipped the page there was a picture of the guy that had stopped and talked to me a couple of months earlier. It was none other than 5X world turkey calling Champion Ben Rodgers Lee of Coffeville, Alabama.
Ben later helped a young Alabama caller named Larry Norton, who went on to win 2 World Calling Championships. A couple years after I started competing in contests, it was Larry Norton who started helping me with my calling. I guess it was some sort of calling karma [that Larry and I both met Ben Lee in some sort of way] and Larry was the one that helped me get over the hump with my calling.
GRANT: Where's your favorite place to hunt?
SADLER
I love to hunt anywhere in southwest Alabama. The turkeys have been hunted hard by somevery good turkey hunters since the beginning of turkey hunting. The turkey in this area are tough to hunt and offer any hunter a challenge to consistently take a limit of Alabama gobblers. I am very appreciative that this is the area of the country that I learned to hunt in, I believe that hunting here has helped me become a better hunter by always pursuing these tough Alabama gobblers.
GRANT: What's your go-to strategy for locating and working a bird?
SADLER:
If I don't get to go to a turkey off the roost, my primary tacticis to cover as much ground as possible trying to locate a gobbling turkey thatis willing to cooperate that day. I like to walk or either ride logging roads in a golf cart trying to locate gobblers with a box call or locater. Once I've located him, and feel like he is a turkey that will continue to gobble, or is in a spot that I can get to with ease, I will go after him. My tactics are very aggressive, and if I feel that this is not his day to die, I will pack up and go looking for another bird. If it is that time of year, when the birds have shut down gobbling, I will throttle back by tactics and stick with a bird most of the day to take him.
GRANT: Is there anything you can do when a gobbler is hen'd up?
SADLER:
I feel the best strategy for a henned up gobbler is just to leave him alone, and go find a bird that does not have hens and is more receptive.
GRANT: What about one thatis hung up?
SADLER:
The first thing I do is try to figure out if there is a reason that he cannot make it to me – creeks, fences, a ditch, or a thicket. If I can circle him and try the bird from a different side I will. If I cannot make a move, I will go to very aggressive calling for several minutes and really try to fire him up. If I can make him gobble 8 or 10 times, cutting his gobbles off each time with aggressive hen calling, I then will shut up for no less than 10 minutes. Then it is a waiting and listening game, you're waiting for him to play his next card. He has three cards that he will play, he will stay put in a strut zone, drift off and head for new places, or he will get fed up by you not calling and he will come to check you out.
GRANT: What is the best call for those who are just getting started turkey hunting?
SADLER:
The best hen call to learn when you are just begging is the plain hen yelp and plain clucks. These are the calls that you will hear the most from hens. They're also the two easiest calls to learn on any type of turkey call. I believe the average hunter can sound more realistic [quicker] on a good friction call far sooner than they can on a mouth call.
GRANT: At what point did you get into competition calling?
SADLER:
I got into contest calling during college after some friends said I should give it a try. The first contest I ever attended and competed in was the Alabama Hall of Fame contest in Linden, AL, where Eddie Salter was the emcee. Needless to say, my first trip on stage was not as refined as it is today. But, contest calling has forced me to study the wild turkey vocabulary to better my contest calling, and that in turn has helped my calling in the woods – when the better calling might have been what made a gobbler commit and come in.
GRANT: What is an effective way to actually study and imitate a hen?
SADLER:
With today's technology and the Internet, it is very easy to search and find countless hours of turkey audio and video to watch and listen to. My favorite site is YouTube. There is a tremendous amount of good footage on YouTube that people have posted of turkeys calling and interacting. The best way for a hunter to get better with his or her calling is to try and mimic the real thing. Many beginning hunters will listen to other hunters [or friends] and try to pattern their calling after theirs.
GRANT: What do you think makesa quality call pot call?
SADLER:
I don't care who makes the call or how a pot call is made; the most important thing is sound. Too many people get caught up in who made it, or how many blue ribbons they have won in call making contests. Sound is first and foremost!
GRANT: What do you like best? Slate, glass, crystal, aluminum?
SADLER: My favorite potstyle call is a crystal in a Walnut pot
GRANT: Are there differentuse cases for each type?
SADLER:
You can get the same results from each type surface. Some surfaces are just more user friendly than others. The way a person calls can sometimes dictate which surface they sound better on. Sometimes it is just personal preference.
GRANT: What do you havegoing on these days?
SADLER:
This year I have become a Pro Staffer for Southland custom Game Calls from here in Alabama. We will be offering two signature series mouth calls and the new Elite Series Crystal call from me – through Southland.