I love the smell of Ponderosa Pine, wood smoke, and canvas. Backwoods camping adds a whole other element to turkey hunting. Living in the outdoors for several days helps me become more in tune with the woods. I can forget about the "real world" and just concentrate on my turkey hunting and enjoying the entire experience. The ability to just walk out the door and go hunting is more than a convenience; it is an engagement with in nature.…
When I first started traveling for my turkey hunting I slept in the back of my pickup truck fitted with a topper. Then I towed a camper trailer for several years. Now I finally have settled on a canvas wall tent as my main camp lodge. I've been hunting with one for 7 years now. The wall tent is roomy enough to easily stand up in and it has a woodstove for a source of heat. That heat is what makes the difference between just staying in a tent and having a comfortable abode. I can fit my whole camping outfit in my truck without having to tow a trailer. Not having to tow anything improves gas mileage and also allows me to get into areas I might not be able to get to otherwise. Over the years there have been a number of hunting areas I could not have reached due to muddy and snowy roads, had I been towing a trailer. Another advantage I like about a tent is when the weather gets hot a well ventilated tent set up in the shade can be cooler than a camper.
Backwoods camping in the area I hunt is an advantage because there is no driving time. Some motels can be a half hour or even an hour drive from a hunting area. This saves time at both ends of the day, not to mention money. During turkey season the more sleep I can get, the better. I also don't have to fight sloppy difficult to navigate roads if the weather happens to be bad or turn bad while I'm out hunting. I might not have to "quit early" in order to "get out".
I have refined my tent camping over the years and thought there may be some ideas that could be useful should you decide to try a tent camp for turkey hunting. My wall tent is 10'x12' and has a frame made from conduit. The canvas is waterproof, mildew resistant and has a fire retardant on it. This type of canvas can be stored wet for a few days, but does need to be dried out before long term storage. There is no other maintenance involved other than storing the tent in a dry place. I keep my tent canvas in a large plastic container to prevent mice or other pests from accessing it. I also have a waterproof tarp specially fitted from the manufacturer to go over the tent. The tarp helps shed a hard rain or snow and also insulates the tent during cold weather. There is no floor in my tent; the woodstove quickly dries out any wet ground. If I happen to expect snow on the ground when I arrive, I bring a scoop shovel to clear the area where the tent will be set up.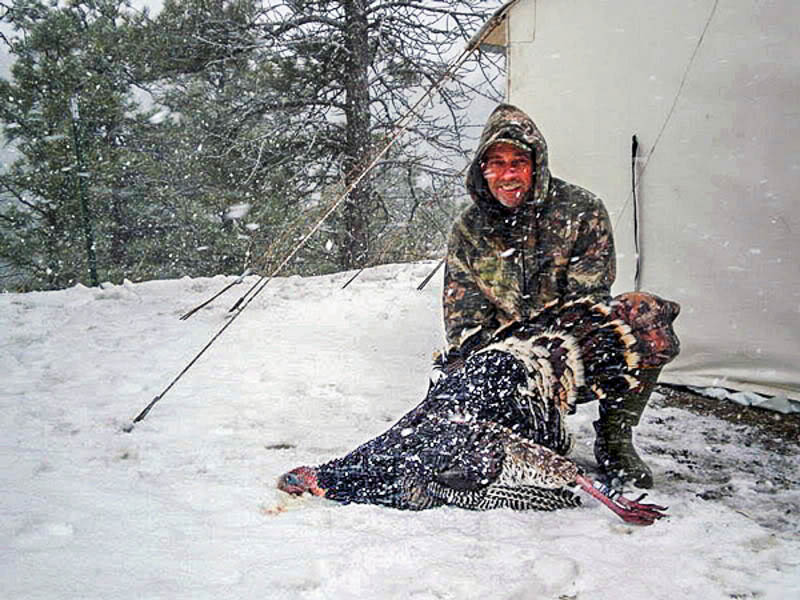 The woodstove is sized to the tent. Having a stove too large can easily overheat your living space, and too small of a stove may not provide enough heat if the weather turns cold and windy. Most of the wood I use to burn I bring with me, but in some areas you may be able to cut or collect your wood right there. Just be sure it is legal beforehand. Kindling is also brought along to ease the starting or restarting of a fire. Wood ash must be dealt with so I have a small ash shovel and I use a metal bucket to hold the ashes until they are cooled enough for disposal. The ash bucket also carries the tent stakes during transport. A spark arrester on top of the stovepipe is needed to keep sparks from flying out and landing on the ground, nearby trees or the roof of the tent. The woodstove is also used to do a lot of cooking.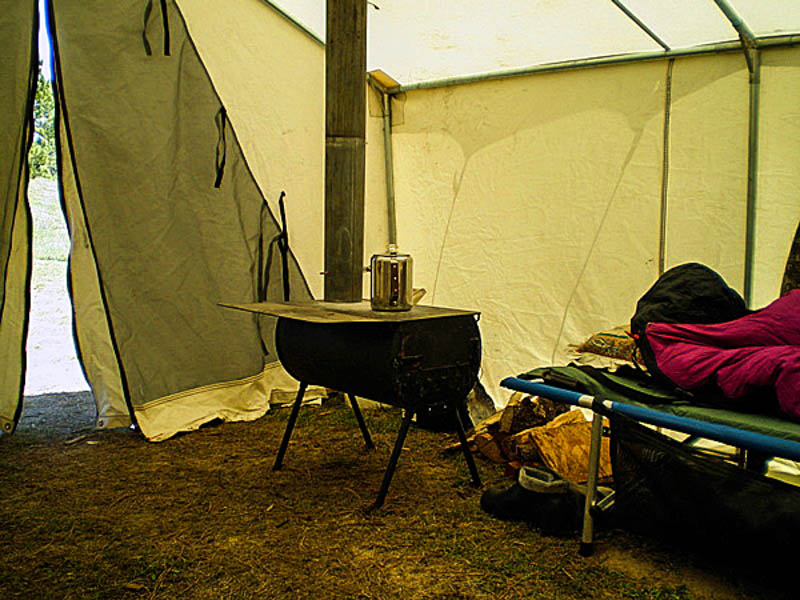 I have a couple of Roll-A-Cots® for beds. They get you off the ground for a good nights rest, are light, and pack up fairly small. A pad for the cot will help insulate you from cool air underneath and provide additional padding for comfort. My tent is designed for two hunters, but three hunters can be accommodated. I made a cloth and conduit shelf to go across the back of the tent to keep clothes and other clutter out of the way and off the ground. The shelf is supported by the tent frame and folds up for transport.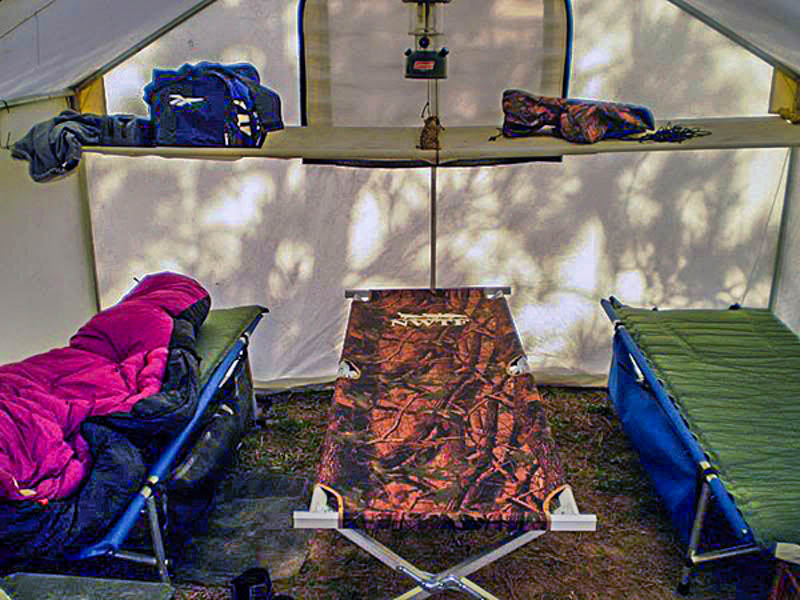 I built food and kitchen boxes to organize the food and cooking utensils. Most of the items in these boxes are never unpacked. I use the items directly from the storage boxes. To get ready for a trip I just have to resupply some food. A hinged board that stores inside one box goes across the top and locks the two boxes together to make a handy countertop. For transport, the boxes each have a lid and they can be hauled in a horizontal position without disturbing things inside (Fig. 5). Most of the food in the grub box is kept in sealed plastic containers to keep any critters from helping themselves. I also built a box that holds all the woodstove parts (stovepipe, fire grate, etc), except the stove body itself. This box then converts into a table for use inside the tent.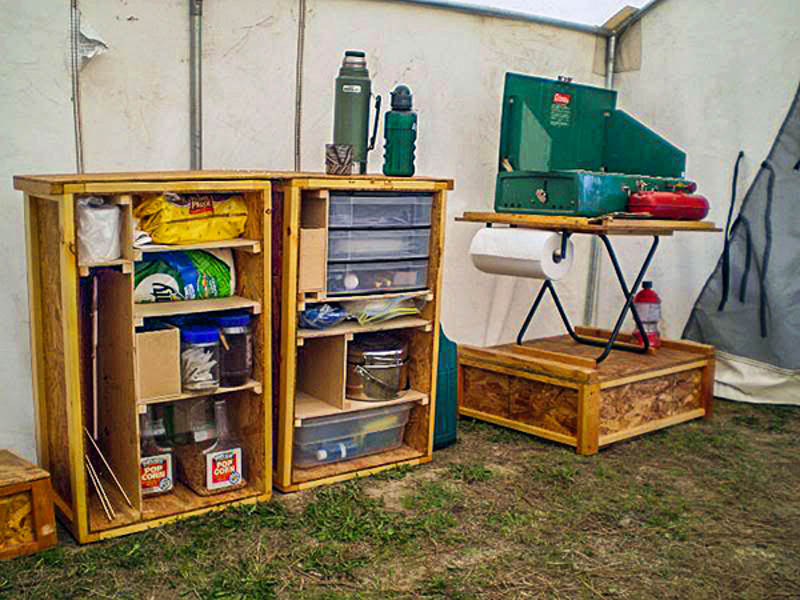 Below are the grub and kitchen boxes with lids on and ready to transport. The woodstove is on top of the stove parts box/table. A water jug with a spigot is a handy source of running water. I usually carry two of these 7-gallon water containers with me. A Coleman® lantern is used to supply the light at night. The lantern is hung form the center support in the tent and I always have an extra set of mantles on hand. A two burner Coleman® stove is used for cooking if the weather is too hot to have a fire going. A single burner stove can replace the bigger two burner if I don't expect to do much cooking on it.
Camp slippers are very convenient. Mine are just a pair of rubber overshoes with some felt boot liners in them. The liners are cut short so they don't stick up to far. It's always nice to get out of the hunting boots, and these slippers are warm, comfy, and easy to get on and off. The rubber allows you to walk around outside if the ground is wet or there is some snow. An axe is always a handy item around camp. The scoop shovel is brought along to clear the ground of snow where the tent will be set up if that is necessary.
I use an Igloo® 5-day cooler to store any perishable food. Most of my hunts are about five days and there is usually still some ice left in the cooler on the fifth day, even in hot weather. Since I would rather hunt than cook, I make up three or four days worth of sandwiches already wrapped in cellophane. These are nice to just throw in your vest in the early morning, or have ready to eat when you get back to camp after a hunt. I also freeze some home-cooked dinners (e.g. lasagna, turkey and stuffing) in a vacuum -seal bag and drop them into boiling water to heat them up before unsealing.. The sealed bag dinners really cut down on dirty dishes since I can place the bag in a bowl or pan and cut the top open and eat directly from the open bag.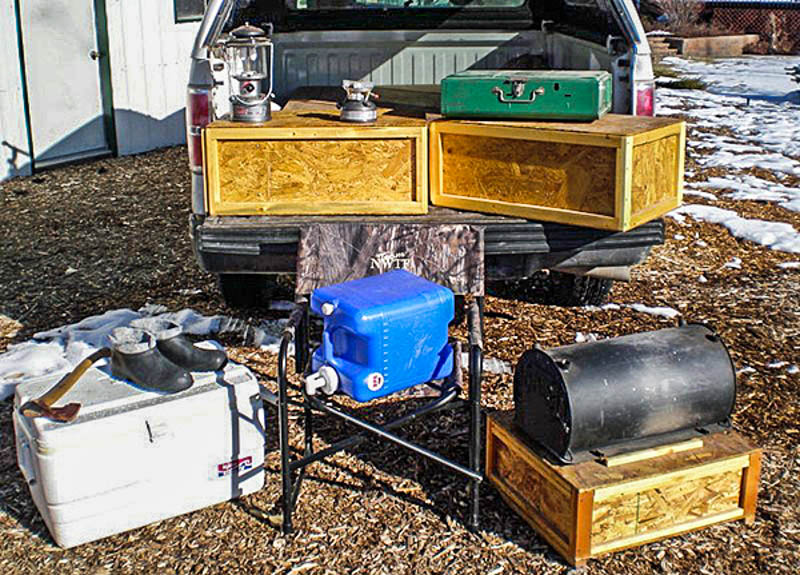 If you think you might want to consider backwoods camping for turkeys, and happen by a wall tent in your travels…well come on in! It's warm inside and there is a fresh pot of coffee on the woodstove.