Ridge Assault
As I sat watching the sun disappear and darkness setting in, I could hear a Merriams gobbler hammering out several distant gobbles 200' above me but a good quarter to half mile away. It sounded like he was up on the high ground, out on a ridge finger coming off the back of the alfalfa fields. I had a good idea which ridge he was on and mentally marked him as the bird Grant Carmichael and I would go after the following morning. We were now at the end of our second day which for the most part had been uneventful.  Although Grant had taken a bird the previous afternoon (See: Chasing Montana Merriams Part One") and we'd heard another bird that morning, I was starting to be concerned because, I'd only seen a few birds throughout the rest of the day, none of which were gobblers.  From my elevated position, I could glass for a half mile in one direction and close to a mile in the other and where I'd seen groups of birds in the past, I only saw a couple sets of hens. I knew the prairie area in Montana that I'd hunted for the past 10 years had experienced a die off and now it appeared it had caught up with the river birds as well. It just wasn't like it used to be and I knew we had our work cut out for us. We should be hearing more birds than just the one above me.
High Ground Morning Hunt
The next morning we arrived well before first light and parked up on the high ground instead of dropping down to the river. We worked our way along the rear of an alfalfa field turning out onto the prairie and off onto the ridge base, where I thought the gobbler from the evening before was roosted. This area is mostly open with prairie sage and dotted with Ponderosa pines. The ground is a mix of sand with millions of varying sized stones and rocks which makes for interesting terrain. There are numerous ridges and brush filled coulees ("draws" if you're from the south) that finger off the high ground out towards the lower agricultural flats that run along the river. Mule deer trails follow along the edge of the high ground where the ridges and coulees start to break off and run up and down from the river area through the coulees as well. Birds often walk the ridges and fly over into the timber in the adjacent draws to roost, and fly back off the limb, and over to the same ridge at day break. From there they may stay high and move out into the upper fields or follow the trails and drop down to the river area.
Even though it was dark, the moon was bright enough for us to cast a shadow so we were concerned that we might be serving notice.  I didn't know exactly where the gobbler was because I'd heard him from a distance, so we worked our way out 100 yards onto the main base of the ridge, and stopped under the overhanging limbs of a pine tree trying not to crunch any of the 5,000 pine-cones that lay at its base.
Merriam's often gobble much earlier than Easterns and we began to hear what sounded like two birds at a distance while it was still dark. They were a longs ways off and several draws over so we just held tight hoping our intended target would sound off. After a few minutes we began to believe we'd been spotted in the moon light knowing we should have heard something out of our targeted bird by now. We were both getting worked up from the feint but constant gobbling from the other birds, and agreed we should take off after the gobblers and try to set up on them before they flew down.
The Ridge Assault
We jumped up and took off at a fast jog mixed with periods of fast walking.  We were following the edge of the tree line dropping up and down out of coulees as we worked our way towards the birds.  We covered a long distance quickly and were both winded by the time we got close enough to pin point where they were. Day had already begun to break so we knew the birds would be on the ground soon. We began our final approach by dropping down into the timber of the next to last coulee working our way down the draw and then climbing out and up to the top of the next ridge finger. The birds were loud now and it sounded like 3 gobblers as they continued to hammer away. They were off in the draw just beyond the next ridge across from us in trees 100 yards away.
As close as they sounded they would be at least 50 yards from where we were if they landed on the adjacent ridge so we'd have to push and get over and be in range when they hit the ground. We eased across the narrow ridge top we were on using a clump of short pine trees for blocking cover from the roosted birds in case they were roosted higher than the far ridge crest. We dropped down into the last wooded draw and slipped out of our vest and quietly crawled up our side of the targeted ridge. Grant was 20' to my left as I eased my head up slowly to take a peek. They gobbled again as my eyes searched allowing me to lock in on them only 50 yards away. I believed we were on the ridge they had pitched off of and should pitch back onto but just in case we planned to encourage them to come our way by calling to them and making them think hens were roosted in the draw just across from them.
The adrenalin was pumping and our nerves were on edge as I made a soft yelp on my crystal. All three gobblers gobbled right back so we knew this was about to get interesting. I made another call a little louder this time which caused them to hammer right back. There was no doubt they knew where we were so I carefully laid my call down making sure it wouldn't roll down the slope (it's happened before) and got my gun partially up. Getting positioned was awkward because of the steepness but Grant and I both got as ready as we could careful to stay below the crest of the ridge.  When they flew down they could be right on us and we didn't want to blow it before they got down by being seen above the ridgeline.
I was peeking over the crest trying to keep my head sucked down inside my neck which is not easy to do, when I heard wings flap and saw first one gobbler and then the two others fly down our way. They didn't fly onto the top of the ridge but instead just dropped out of the trees onto the lower opposite side of our hill, just out of site. My adrenalin regulator was really being tested now as it was nerve racking because I didn't know where they'd pop up on the ridge. I could see down the ridge fine but if they showed up right across from me they'd be in bayonet range 6' away. I turned and signaled to Grant that three birds were on the ground, but he had watched them as well and knew what was unfolding with his gun ready.
My heart was pounding as I saw movement as one bird topped the rise 25 yards away. A few seconds later a second bird came into view. Because of the low light, distance perception was tricky but there was no doubt they were in range.  I could only see heads and necks of two birds looking our way. Based on our team plan my bird was on the right so I counted to 3 just loud enough for Grant to hear and we both fired. Both birds disappeared and we both jumped up. I saw a head still looking at us and fired again not knowing if I'd missed or if it was the third bird. As Grant and I both charged over we realized we had all three birds laying or flopping on the ground.
When it All Comes Together
I've hunted Montana many times and taken many birds there before the sun came up. I can tell you that watching the sun rise with the scenic view Montana provides while sitting with your bird is a wonderful feeling. Grant and I took the time to take in the moment and just sat with the birds taking it all in. It was as pretty a day as you'll see out there with no wind but cool dry air. The elevated views and big sky sunrise is second to none I've ever seen. The heavy feathered beautiful Merriams don't hurt the occasion either.  I've shared this same glorious moment with others and alone many times.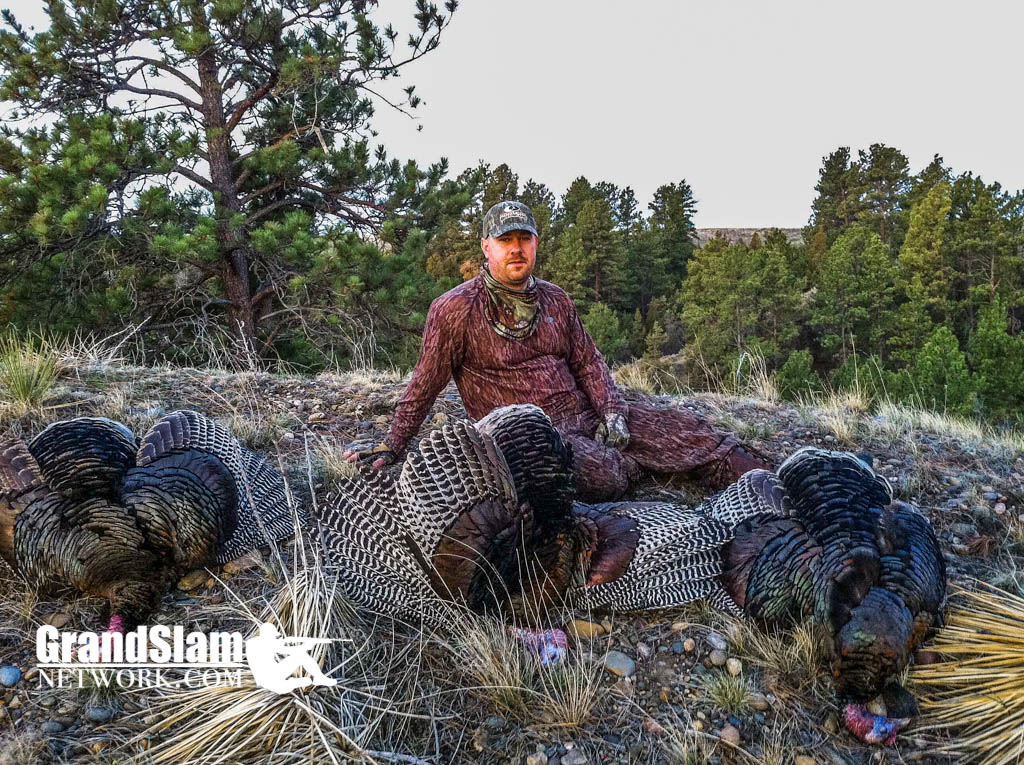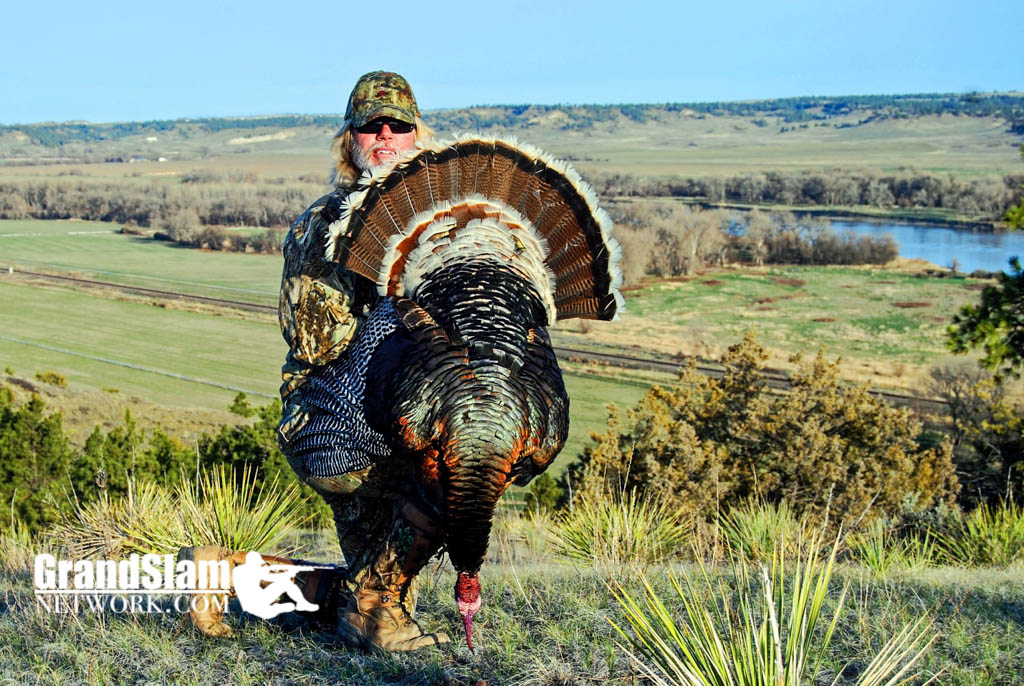 Hunting Merriams
As I mentioned, Merriams in Montana have the beautiful white tips and heavy feathering that Wyoming and South Dakota Merriams carry and what most look for when they go after this bird. I know a few l other states do as well. Where ever you hunt them out west it's likely to be a great experience.
Merriams like to gobble, cover ground, and will respond well to a call. Like any birds, a lot depends on the pressure aspect. Prairie birds especially are fun to hunt and can provide for some great action. I don't hunt them because I consider them easy. I love to hunt Merriams because they are beautiful birds that occupy beautiful country, and I enjoy the adventure that comes from chasing them on the western ground they occupy.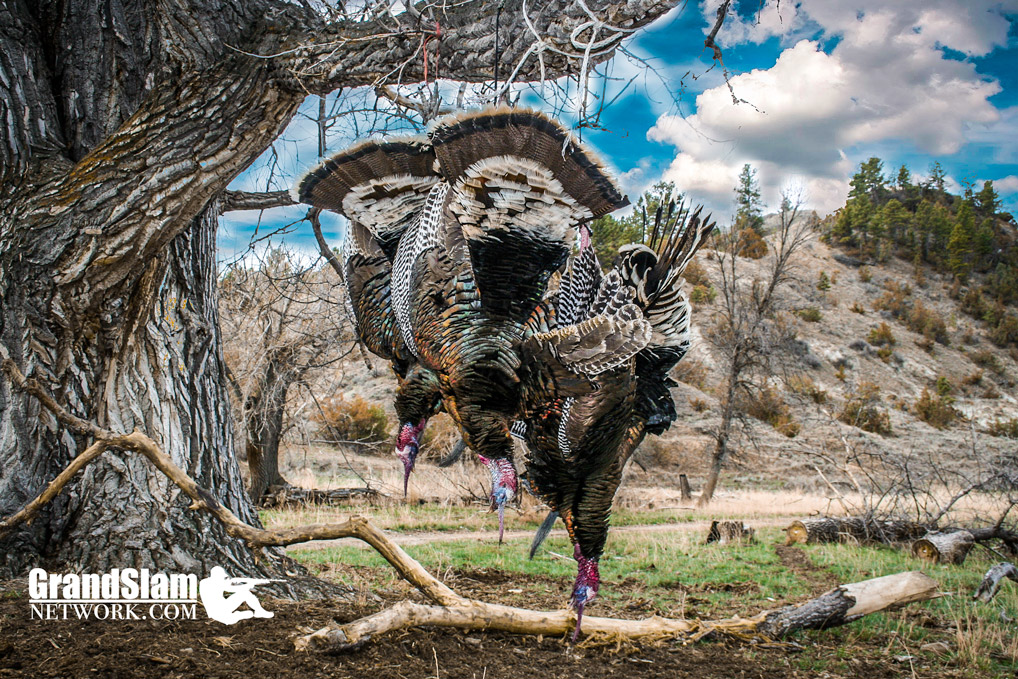 As mentioned earlier, my experience has been that birds out west often approach and leave a roost area by the same path. This is often true with any birds but with Merriams it has been almost like clockwork. So the basic take away being if you see where birds walk in and fly up from to roost, you'll want to be waiting for them in the same place or on the same route when they come down.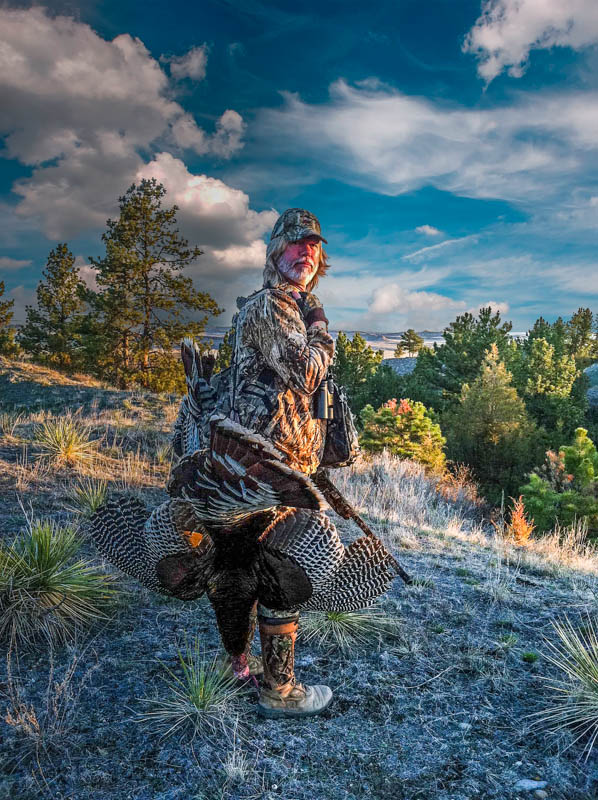 The sad news is that the immediate area I've hunted has seen a significant decline of birds, which from the best I can gather is at least partly due to avian pox. How wide spread this is I'm not sure but the prairie area I've hunted has been decimated. The river area, at least where I've hunted in this region now appears to have been affected.  What the future holds for this area is a question mark in my opinion.
Even though the latter hunt was more of a run and gun effort similar to what we undertake on the open prairie, I wished Grant could have experienced more of it along with the constant trolling that comes with it.  In the past we've had to cover miles of ground to find birds. We did ride around in the hills and checked out several areas that used to hold birds. None were found and at this point even if they were I believe it would be best to leave them alone and hope they'll reproduce.
The 2013 Montana hunt was a memorable and enjoyable hunt complete with good weather which is not always the case.  We both tagged out early and made a quick dip into Yellowstone Park. Hunting with Grant Carmichael was a pleasure and created memories that we'll both carry with us for a long time to come.
Bobby Parks
GrandSlamNetwork.com
Mossy Oak
Ol Tom