Chasing Montana Merriams – Part 1
Over the Tracks
As Grant Carmichael and I eased down the right side of the raised rail road tracks staying in what was the equivalent of a wide ditch, we hoped to avoid detection from any turkeys on the lower ground to our left or from the quick rising coulees and high ground on our right. The area on the left of the tracks was a long flat strip of ground covered with Cottonwood trees and Russian olive bushes that ran for over a mile, with the river running parallel of the tracks forming the back edge. The strip was 100-150 yards deep and was 30' lower than the track elevation. There was a long narrow lake bed that ran for 250 yards, although at the moment I didn't know just where we were in relation to it or if it was wet or dry. We avoided standing or walking up on the tracks to look as we risked being busted if birds were around. In years past this strip was an area that turkeys occupied and roosted in. We were working our way down to a spot that birds traveled back and forth from the strip to the high ground, with plans of setting up and beginning our 2013 Montana Merriams turkey hunt. Although I have hunted Montana for the past 10 years, this would be the first time that my friend and Grand Slam Network.com partner had teamed up for this hunt. It was Grant's first trip to this beautiful state and his first crack at these gorgeous white tipped birds.
It was mid afternoon as we walked and whispered back and forth discussing our plan when we were interrupted by a gobbler that gobbled on his own 80 yards away to our left. It sounded like he was just across the lake and as glad as we were to hear him, we were not in a position to call to him or get over on his side without being seen. Crossing over and going straight at him seemed like a bad gamble as we could be spotted or heard crunching gravel as we ran across the tracks. Our only option appeared to be moving down the tracks, crossing over, and trying to move back towards him. But if the lake had water in it we'd have a problem getting over on his side. I was trying to remember just where the dam was and finalize a decision when I heard the train off in the distance. This was a timely blessing as these trains run fast and it would be on us in a few minutes. This provided us another option that we'd not have otherwise.
I'm a believer in working with what you have and capitalizing on opportunities when you can and ours was speeding towards us. As unorthodox as it may sound, we decided to use the train for cover. We would wait and use it and the disturbance it caused as a diversion and cross over to the other side. We would then try and call the bird to the opposite bank which should only be 25 yards away. This would allow us to go straight at him without giving up ground but we had to be really quick with our move.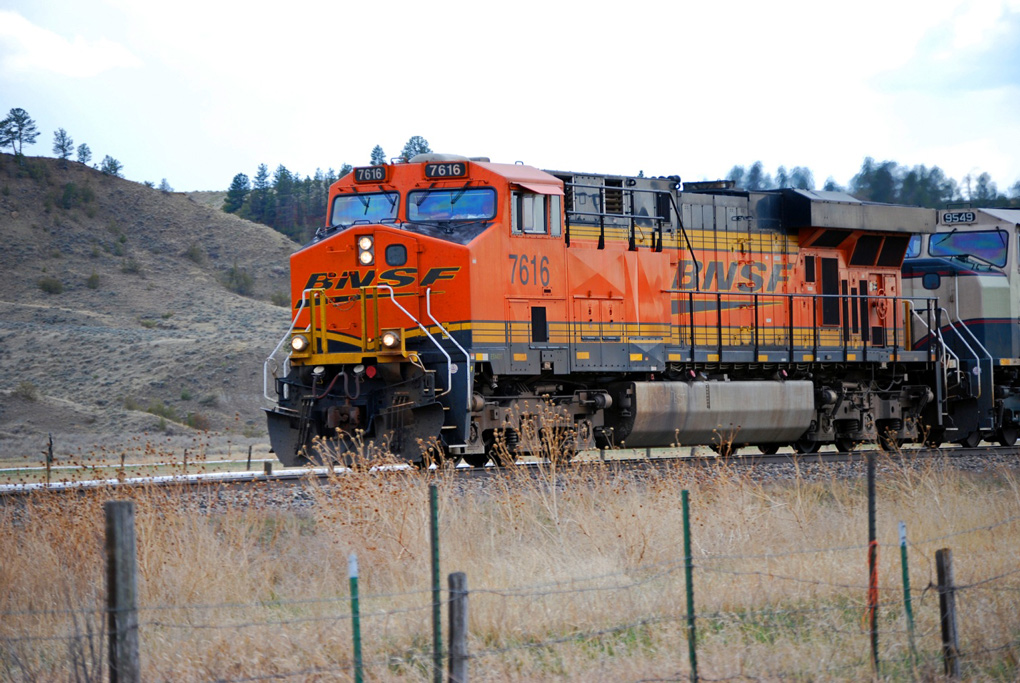 Once the train got to us we hopped up near the tracks and stood only a few feet from the train holding our hats so they wouldn't blow off. We were like wide receivers waiting for the ball to snap and the instant the train cleared us we darted around, jumped off the tracks, and initiated somewhat of controlled slide feet first under the barbed wire fence, and down the bank hoping that all the noise and commotion of the train would mask our move. The birds were used to the train and in a worse case its passing might push them back a ways but not spook them. I hoped this provided us a chance to get directly across from the gobbler without a long walk down the tracks and trying to circle back on him.
As we crossed I saw that the dam was 50 yards to our left and that the lake bed was dry. We slid two thirds the way down the bank and stopped, but quickly realized it was too thick to set up so we dropped on down the last 10' to the dry bed.  With our backs against the bank, Grant got his gun up and began searching the far edge for any sign of movement. We spotted three birds 150 yards to our right down the long narrow lake bed right out in the open. This confused me at first because I didn't think the birds were that far away or in that direction. As soon as the sound of the train faded, I yelped on a glass call thinking we might hear a gobble from their way. Nothing came from that direction but two gobblers hammered at us from our 11:00 position only 80-90 yards away.

Grant Carmichael Turkey Hunting Montana
I called again 30 seconds later and could tell the two gobblers were already moving in our direction. We were lower than the adjoining bank so we wouldn't see them until they walked up to the far edge which was good as far as I was concerned. They'd have to come looking for us and once they got there they'd be in range.  The dam to our left began to worry us though because the next time they gobbled, we realized they had angled left and it sounded like they might come in from behind it or walk out on it. The dam splits the lake bed and I knew there was a low area beyond it just like we were sitting in. If they topped the dam they would be looking down on us just out of range. As close as they were and as risky as a move seemed at this point, we had to get closer. There was plenty of brush between the birds and us so we jumped up and sprinted 20 yards towards the dam and dropped back down now within easy range.
I called again to "gobble track" them so we'd have our guns pointing in the right direction with hopes of doubling up. They answered so we knew we had gotten away with our move. Within a minute I heard Grant whisper "I see em and I have a shot." The bird Grant was on came up from behind the dam and walked right up on it, but the second bird stopped short with only the top of his red head visible over the crest. He only needed to take another step or two up and I could be on him but he appeared to be frozen to the earth. The first bird had his head stretched up staring down at us while Grant was fighting off pulling the trigger, trying to give me a chance at the second bird. If his bird moved left or right he would have obstacles in the way. Grant reminded me a couple more times that he had a shot and afraid to delay any longer, he plastered the bird dropping him in his tracks.
Grant now had a beautiful Merriams gobbler and we had both heard a good dose of afternoon gobbling. "Bird One" was down and in the books. Things had gotten off to a great start and although it had happened fast, it had been a fun and exciting hunt. Using the train for cover as we did made the hunt different and it was tense but exciting making the move around it and across the tracks. The decision to make the secondary sprint 20 yards to the dam had added to the drama and paid off.
As we walked back down the tracks with the gobbler over Grant's shoulder, we looked forward to our next few days of Chasing Montana Merriams.